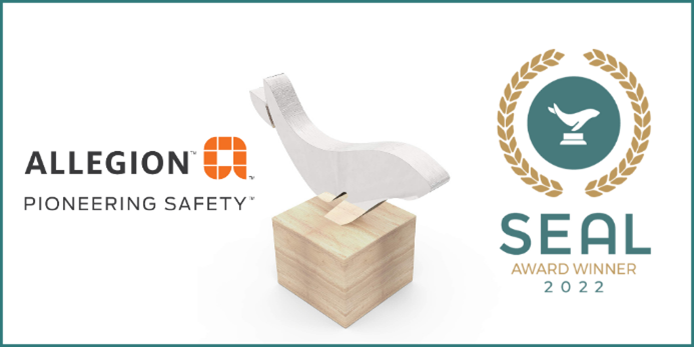 SEAL Awards has announced the winners of the 2022 SEAL Business Sustainability Awards (BSA) – and Allegion is among the top companies being honored for leadership, innovation and commitment to sustainable business practices.
SEAL – which stands for sustainability, environmental achievement and leadership – annually recognizes organizations across four distinct award categories: environmental initiative, sustainable innovation, sustainable product and sustainable service.
"Companies have a unique opportunity and responsibility to drive environmental progress where politics cannot. Our corporate sustainability awards celebrate organizations that embrace the responsibility to effect positive change," commented Matt Harney, SEAL Awards' founder. "Most business sustainability initiatives are unglamorous and invisible to the general public despite having significant positive impacts – we hope our awards bring some much-needed recognition to both the activities and the leaders behind them."
Allegion was among the notable companies honored with a SEAL Environmental Initiative BSA. Other companies receiving awards in this category included General Electric, GM and P&G.
Allegion was recognized for a water reduction project implemented across two of our manufacturing sites in Mexico's Baja California region. This proactive initiative – a collaboration between the local team and our corporate environmental, health and safety (EHS) experts – used reverse osmosis technology and automation to not only minimize the amount of water needed in manufacturing processes but also allow the in-house wastewater treatment plant to increase its recycled water supply as well.