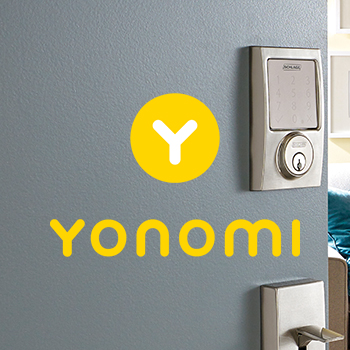 Allegion Futurist and Vice President of Strategy and Partnerships Rob Martens called the investment a strategic alliance between two smart-home IoT thought leaders.
"As an IoT thought leader, Allegion drives connected device integration in both residential and non-residential security markets," said Martens. "We form strategic alliances with others who embrace the IoT as we do, furthering our capabilities and pushing innovation in our industry. This new alliance with Yonomi is a perfect example. We're impressed by the flexible IoT solutions Yonomi offers to manufacturers as well as end consumers and look forward to using this technology to give our customers smarter security experiences."   
Through the alliance, Allegion's portfolio has elite access to Yonomi's Thin Cloud Infrastructure and cloud computing expertise. Schlage® recently deployed Yonomi Thin Cloud to support millions of its smart locks.  
Allegion will also further its integration into the smart-home market through the Yonomi consumer application that fosters seamless communication between smart-home devices. The mobile application allows users to set conditions and personalized routines that control multiple smart-home devices with simple voice command. The app currently integrates with more than 60 popular smart-home devices, including some Schlage locks.   
"We've designed Yonomi to be both easy to use and powerful, much like Allegion's IoT-enabled products," said Yonomi CEO Kent Dickson. "As a company that's focused on simplifying smart-home experiences, we're excited to have a strategic partner like Allegion with expertise specific to the evolution of smart security devices – an important part of the connected home." 
The partnership is consistent with Allegion's strategy to drive growth and create shareholder value by investing in new technologies.
#  #  #
Forward-Looking Statements
This press release contains "forward-looking statements" within the meaning of the Private Securities Litigation Reform Act of 1995, including statements regarding the company's IoT strategy, the success of Yonomi and the company's investment, and the company's growth strategy. These forward-looking statements are based on the company's current available information and its current assumptions, expectations and projections about future events. They are subject to future events, risks and uncertainties – many of which are beyond the company's control – as well as potentially inaccurate assumptions, that could cause actual results to differ materially from those in the forward-looking statements. Further information on these factors and other risks that may affect the company's business is included in filings it makes with the Securities and Exchange Commission from time to time, including its Form 10-K for the year ended Dec. 31, 2016, and Form 10-Q for the quarter ended March 31, 2017, and in its other SEC filings. The company assumes no obligations to update these forward-looking statements.
About Allegion™
Allegion (NYSE: ALLE) is a global pioneer in safety and security, with leading brands like CISA®, Interflex®, LCN®, Schlage®, SimonsVoss® and Von Duprin®. Focusing on security around the door and adjacent areas, Allegion produces a range of solutions for homes, businesses, schools and other institutions. Allegion is a $2.2 billion company, with products sold in almost 130 countries. For more, visit www.allegion.com.