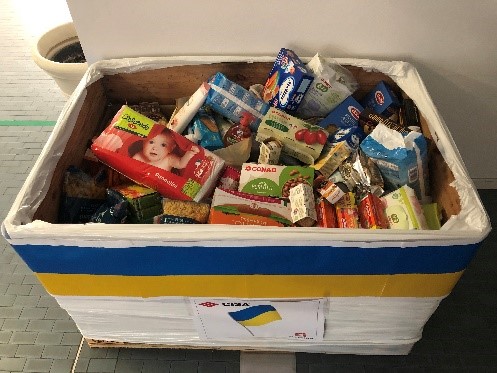 Allegion is an organization centered around providing safety and security in the communities where we live, work and thrive. As a company with an international footprint, our people are deeply saddened by the human toll of the war in Ukraine, and we denounce Russia's acts of aggression. We stand united for a peaceful resolution to this humanitarian crisis.
Furthermore, with an operational footprint in Poland and throughout Europe, Allegion is committed to supporting our team members, their families and the many communities who are aiding those presently seeking refuge there.
Guided by our values – like "do the right thing" and "serve others, not yourself" – our people and brands have led through both individual contributions and our volunteer activities: In the U.S., our internal "G.I.V.E. Committee" assembled and shared a thorough list of reputable humanitarian aid organizations – plus, some U.S. team members are supporting the Red Cross through direct paycheck donations. Similarly, in the U.K., our Briton team members are developing a new program to donate money for refugee and other charitable causes directly from their paychecks. In Germany, we've seen our colleagues open their homes to Ukrainian refugees, and our SimonsVoss team organized a supply drive – filling the office with donations within hours of the initial ask. In Italy, France and Germany, our CISA, Bricard and Normbau teams have been collecting non-perishable foods and hygiene items for refugees as well.
In addition, Allegion has made a $250,000 USD donation to the Red Cross to provide emergency assistance to refugees fleeing to neighboring countries, including food, water, medical and hygiene supplies, as well as help refugee families reconnect. The donation will support those humanitarian efforts in Europe through the global Red Cross network, including the International Committee of the Red Cross, the Ukrainian Red Cross and the Polish Red Cross, among others. Throughout the year, the Allegion International business segment plans to provide an additional $25,000 USD to support local community non-profits in their efforts on the ground.
Doing the right thing means we also have the right steps in place to ensure Allegion does not do business with sanctioned people or entities – and we have ceased all business for Russia, meaning we are no longer accepting new orders or creating future quotes there.