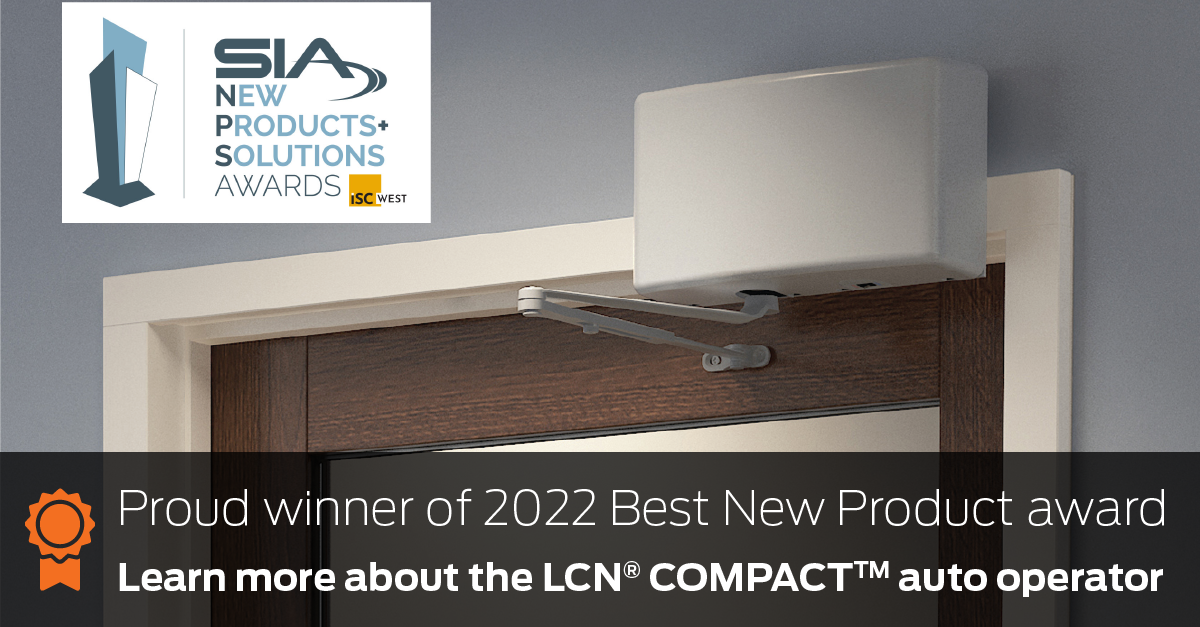 Allegion was recognized by the Security Industry Association (SIA) as a winner at the 2022 SIA New Products and Solutions (NPS) Awards, the flagship awards program presented in partnership with ISC West recognizing innovative security products, services and solutions.
During the annual NPS awards ceremony, Allegion received the Best New Product Award for its LCN 6400 COMPACTTM Series door operator, which also laid claim to the top prize in the "Access Control Software, Hardwire, Devices & Peripherals – Wired" category.
The LCN6400 COMPACTTM Series, which is a bolt-on door operator, enables users to convert existing LCN 4040XP mechanical door closers into automatic door operators for touchless access.
Allegion's Director of Field Marketing and Training Brad Aikin comments, "Allegion is honored to receive the top award from the distinguished panel of judges within SIA, comprised of industry leading security consultants and end users. The LCN 6400 COMPACTTM Series represents the type of seamless access solutions our teams develop through engagement with end users and channel partners to better serve their needs." 
"SIA applauds the 2022 SIA NPS Awards honorees, whose outstanding products, solutions and technologies represent the best and most cutting-edge security offerings on the market," said SIA CEO Don Erickson. "SIA congratulates Allegion for standing out among the impressive field of entrants in this competitive flagship awards program."
Since its inception in 1979, the SIA NPS Awards have been the security industry's premier product awards program. New products are reviewed by a panel of judges with extensive industry experience, and in 2022, following significant deliberations, the 30 judges presented awards for technologies covering 25 product and service categories. View the full list of SIA NPS award winners here.
Learn more about the LCN 6400 COMPACTTM Series
The LCN  6400 CompactTM Series Low-Energy Auto Operator represents the next wave in Allegion's touchless solutions, making seamless, comprehensive safety and security the new standard for businesses, institutions and beyond. For more information, visit us.allegion.com/CompactTouchless.