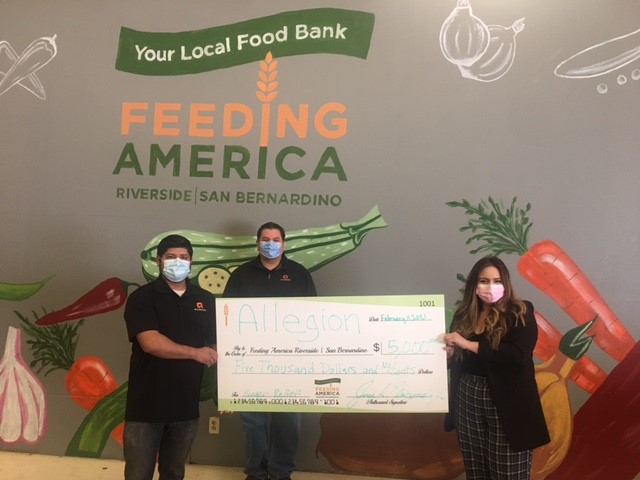 Service is at the core of Allegion's principles. From our vision of seamless access and a safer world to our value of "serve others, not yourself," Allegion is honored to support our global communities through the passions and service of our people. We empower employees to identify local needs and make a difference where they live and work. Each year, Allegion's employees around the world are proud to directly support organizations and initiatives through donations, engagement and thousands of hours of volunteerism.
Allegion's three philanthropic pillars: Safety and security / wellness / and communities where we live and thrive, help to guide the company's commitments towards improving and supporting others around the globe.
Given Allegion's dedication to giving back, we sought to make a substantial impact on our local communities in the wake of the ongoing COVID-19 pandemic. As a result, in December 2020, Allegion made donations to hunger-relief organizations around the world amounting to more than $500,000. These one-time gifts were designated on behalf of all Allegion employees to make an impact on the growing number of people facing food insecurity during these unprecedented times. In addition to the financial contributions, these efforts were bolstered by food drives hosted by local Allegion sites, as well as volunteer hours – all benefiting those same organizations.
We are proud to partner with various hunger-relief organizations around the globe, who are going to tremendous lengths to lessen the burden on those struggling to place food on the table during the pandemic. "The Bureau County Food Pantry plays a vital role in our local community – and with impacts from the COVID-19 pandemic, their value has never been clearer," said Chris Dybek, plant manager for Allegion's LCN Operations in Princeton, Illinois. "We were very honored to be able to support their good work to fight food insecurity with an end-of-year financial donation made on behalf of our Allegion employees in Princeton, as well as a food drive. I'm grateful to be a part of this community that gives back generously when it's needed most. 'Serve others, not yourself' is one of our core values at Allegion – and I certainly see other community leaders and their organizations embracing that to make a difference, which is something we can all be proud of."
Are you interested in giving back to global hunger relief efforts? See below to learn about some of the valuable organizations Allegion partnered with over the past few months – and consider partnering with them, too.