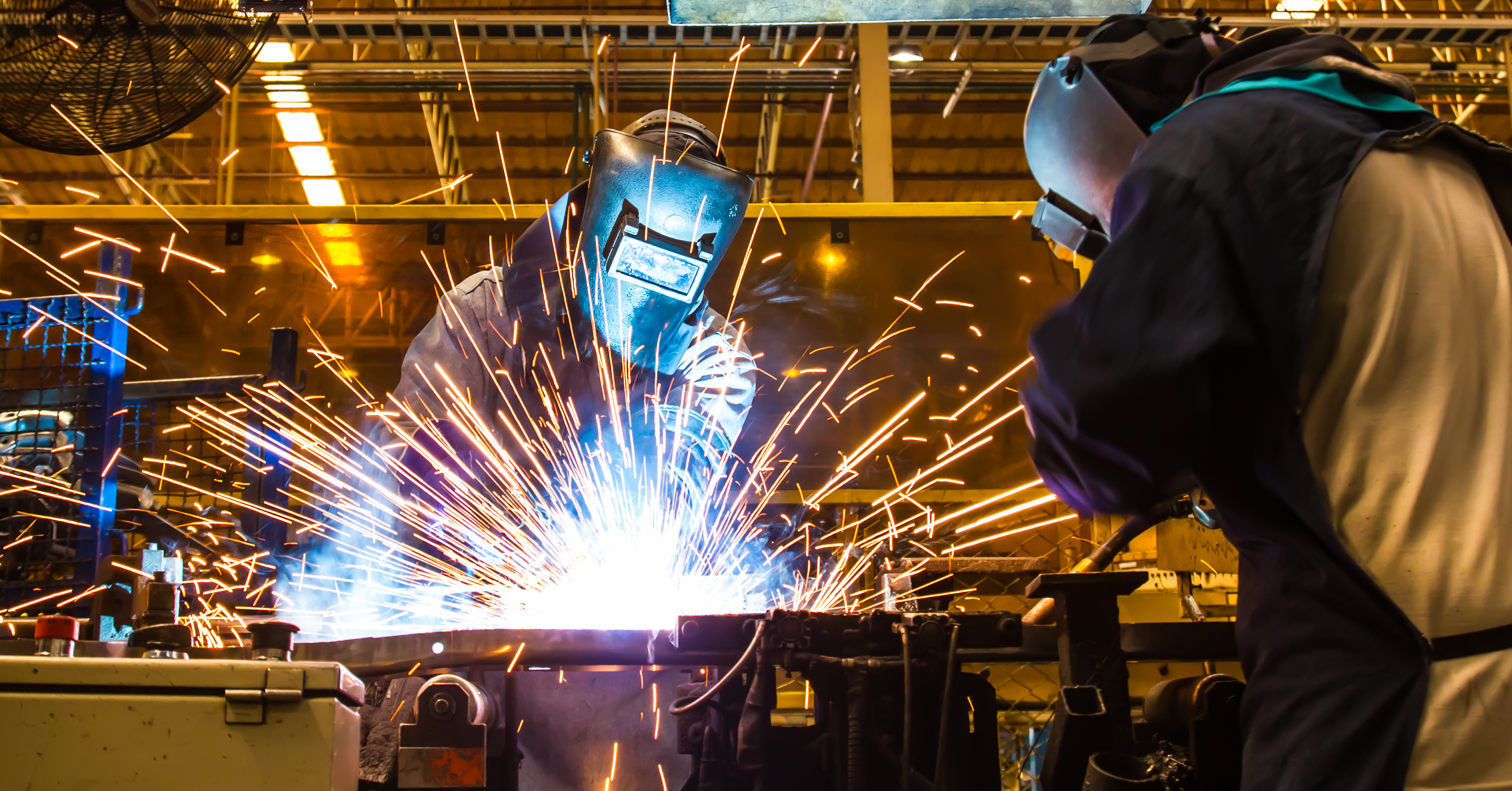 Across the globe, Allegion's family of brands has been pioneering safety solutions to keep the places where we work, live and thrive safe for, in some cases, over a hundred years. Behind this rich history of innovation and safety are the individuals who have dedicated their careers to the production of Allegion's wide array of security solutions.
Just as Allegion's portfolio of security solutions and brands are diverse, as are the experiences that each of our team members have had throughout their careers with the company. Below, you'll meet a few of the tenured individuals who have helped to bring the rich experience and depth of knowledge to Allegion's manufacturing operations in Europe and Asia-Pacific for many decades.
Aijian H. (20-year tenure)
Associate Manufacturing and Warehouse Manager
Allegion's "Schlage" Operations – Shanghai Jinshan, China
Aijian has worked at the Shanghai Jinshan plant for 20 years in various roles, including operator, production foreman, facility technician and manufacturing supervisor. He was promoted to his current role, associate manufacturing and warehouse manager, in 2019 and now oversees the manufacturing operations and the warehouse.
Fulfilling customers' needs, producing high-quality products and knowing that those products are used by customers across the world are all contributing factors to Aijian's decision to pursue a career in manufacturing, and specifically at Allegion. Aijian also adds, "Allegion provides a good environment for my personal development, and I enjoy the work-life balance. I feel proud of our brand and our products."
Aijian reflects on his first memories working for the company as a 20-year-old with no work experience at the time. His hope was to work and live in a big city, so he relocated from his small hometown to Shanghai. "After joining the company, I learned new things every day – from production-related knowledge and skills to manufacturing operating systems, as well as people management skills," he recalls. He also notes the family atmosphere at the Shanghai facility, despite being from all different cities. "Our employees are from different cities, and we are very busy, but we are happy and we work together like a big family. I feel involved and like I belong to the family," he says.
Aijian also shares his advice for those considering a career in manufacturing, citing many of our Allegion values as great places to start. "First of all, if you are new to the manufacturing industry, you should love your job and colleagues and be empowered and accountable for all tasks assigned to you. Secondly, be curious beyond the obvious; keep learning, accumulate work experience and look for improvement day-to-day. Last, but not least, be a good team player and be safe, be healthy," he imparts.  
Swetlana G. (16-year tenure)
Team Leader - Manufacturing
Allegion's "Interflex" Operations – Durchhausen, Germany
Swetlana joined the organization as an intern in March 2005 and continued on to become an IT systems clerk apprentice for two years. After her apprenticeship, she worked on the Export team, introducing an electronic export procedure and helping to pass this new process on to her colleagues. In 2009, she began working in production, and has held a variety of jobs since, including: first work preparation, assembly, deputy production manager, technical specialist (which required her to complete further training and earn a certificate) and, most recently, manufacturing team leader.
Swetlana has enjoyed her lengthy career in manufacturing because of the variety she experiences she's had and the problem-solving skills she can apply. She remarks, "It is a varied job. It is fun to look for solutions or to implement projects together with other departments." Her love of learning is also fulfilled here at Allegion, and she says there is always something to learn. "I have the opportunity to develop myself further, both personally and professionally," Swetlana comments.
If you're interested in the latest technology, a curious person, someone who enjoys teamwork, but also working independently, and a doer, Swetlana says a career in manufacturing may just be something that you want to consider.
Tomasz N. (21-year tenure)
Mechanical Area Leader
Allegion's "AXA" Operations – Zawiercie, Poland
In 2000, Tomasz was looking for a job that would allow him to earn for his studies. It was then that he found AXA and began working as a grinder. Over time, he gained experience in other areas, such as polishing, and eventually was promoted to leader of the grinding area and then to his current role of leader of the mechanical area.
Tomasz also participated in the Front-Line Leader (FLL) program and notes it was a great opportunity to support his development. Additionally, he says, "I know what is expected of me at work. They take my opinion into account, my development is supported, and I have the opportunity to learn."
He is proud of his tenure with Allegion (and the AXA business) during the last 21 years and counting because of the positive atmosphere at the organization. "The company cares for the employees and enables my development," he comments.
Tomasz also offers some advice for the next generation looking to pursue a career in manufacturing, sharing, "Don't try to be someone else. Be yourself and do what you do best. Be inquisitive, motivated and responsible, and your commitment and motivation will be appreciated."
Natalie R. (16-year tenure)
Assembly Worker
Allegion's "Interflex" Operations – Durchhausen, Germany
Natalie first joined the company in 2004 as a temporary production worker and then permanently joined the team a year later. She states that, throughout her time with the organization, she has continued to learn and grow. "I have acquired knowledge of the many products and work both independently and can train new colleagues. [The company] continuously educates me."
When asked why she chose a career in manufacturing, Natalie cites her enjoyment of working with her hands, namely assembling, and learning about new products. A career at Allegion has provided Natalie with the flexibility and continued development that she desires.  
For those considering a career in manufacturing, Natalie encourages them to have fun, be flexible and remain open to new ideas.
Peter H. (31-year tenure)
Operations Manager
Allegion's Operations – Auckland, New Zealand
Peter's career with the organization can be described as a journey, and he has taken on different roles as the business has grown and evolved into different activities and priorities. Beginning his career with the company in 1990, Peter was first employed as a toolmaker before moving to research and development, where he worked for 17 years. He then worked in lean manufacturing/operations and innovation before taking on his current role as operations manager.
Prior to working at Allegion, Peter was toolmaking and supplying to a number of manufacturing companies. A career in manufacturing made sense for him with his love of hands-on work. Peter is also a big thinker, as "Strategic" is one of his top Gallup strengths, so working alongside others in the factory to bring ideas and solutions to reality allows him to utilize this strength in his career.
Peter's experience and commitment to the business' success has made him an invaluable and integral part of the Allegion team, and has opened the door to many opportunities for growth and development within the organization.
For those considering a career in manufacturing, Peter highlights the needs for learning and passion. "Learn your role well to give yourself time for expansion. Manufacturing is a very complex and multi-faceted area of the business, which requires time and experience to develop. Passion is a big thing for me in the roles I have been in. Find something you love and find a way to bring it into the work you do," he emphasizes.
Viktor G. (22-year tenure)
Electrical Engineer
Allegion's "Interflex" Operations – Durchhausen, Germany
When Viktor first began his 22-year career with the company, he started in the production department and was responsible for repairs. Through additional training, he continued his personal development and earned positions supporting production through assembly and eventually working with development on new products. Today, Viktor is an electrical engineer with the organization.
Viktor chose a career in manufacturing because of his fondness for electronics and the latest technology and has continued working at Allegion for the duration of his career thanks to the freedom to develop himself. He recommends anyone who is looking for a similar career path to also consider pursuing a job in manufacturing.
Jessie L. (23-year tenure)
Order Selection Team Leader
Allegion's "Gainsborough" Operations – Blackburn, Australia
Starting her career with the company as a picker 23 years ago, Jessie's role has evolved quite significantly over the years. Eventually moving into invoicing, she then became an order selection team leader after about five years in that role.
After first hearing about Allegion and manufacturing through word of mouth from her friends, Jessie has chosen to stay because of her work and the people. "It's a nice place to work with friendly staff. There are good people here," Jessie remarks.
Kim H. (41-year tenure)
Assembly Worker
Allegion's "Interflex" Operations – Durchhausen, Germany
Kim joined the organization over 41 years ago when the company was seeking new employees in assembly. When he applied, he notes that he was able to start right away. Kim says he has acquired many skills and learned about many products over the years and enjoys that he can work both independently and in a team atmosphere.
When asked why he has chosen to work for Allegion for the duration of his career, he comments, "Because a good working atmosphere, nice colleagues and managers are important to me."
For those considering a career in manufacturing, Kim's advice is simple and important: "One should be honest, hard-working and patient," he declares.
Agnieszka C. (22-year tenure)
Production Reporting Specialist
Allegion's "AXA" Operations – Zawiercie, Poland
What started as a job out of convenience (because it was nearby to childcare), quickly became a career – and 22 years has since passed for Agnieszka since she began working for the company. She started in assembly and packing and now works as a production reporting specialist.
She notes that the atmosphere and her colleagues contribute to her enjoyment of her work – even saying that they "know each other like family." Agnieszka also comments, "I really love this company. The work is great, the processes are organized, and I like my job very much."
Agnieszka recommends anyone to work for Allegion because, "the work is developmental, the company is open to ambitious people, and you need to do what is right and be motivated." She continues on to share some additional keys to success: "Working in a team is very important, and here we have full cooperation, which is great. Work with us, ask lots of questions and develop yourself."
At Allegion, we believe manufacturing matters, and our people play a critical role in keeping customers safe whenever and wherever our solutions are used. Manufacturing is essential and there are many opportunities to flourish in exciting, vibrant and successful careers, such as those you've heard about above and those featured in our previous U.S.-focused article.