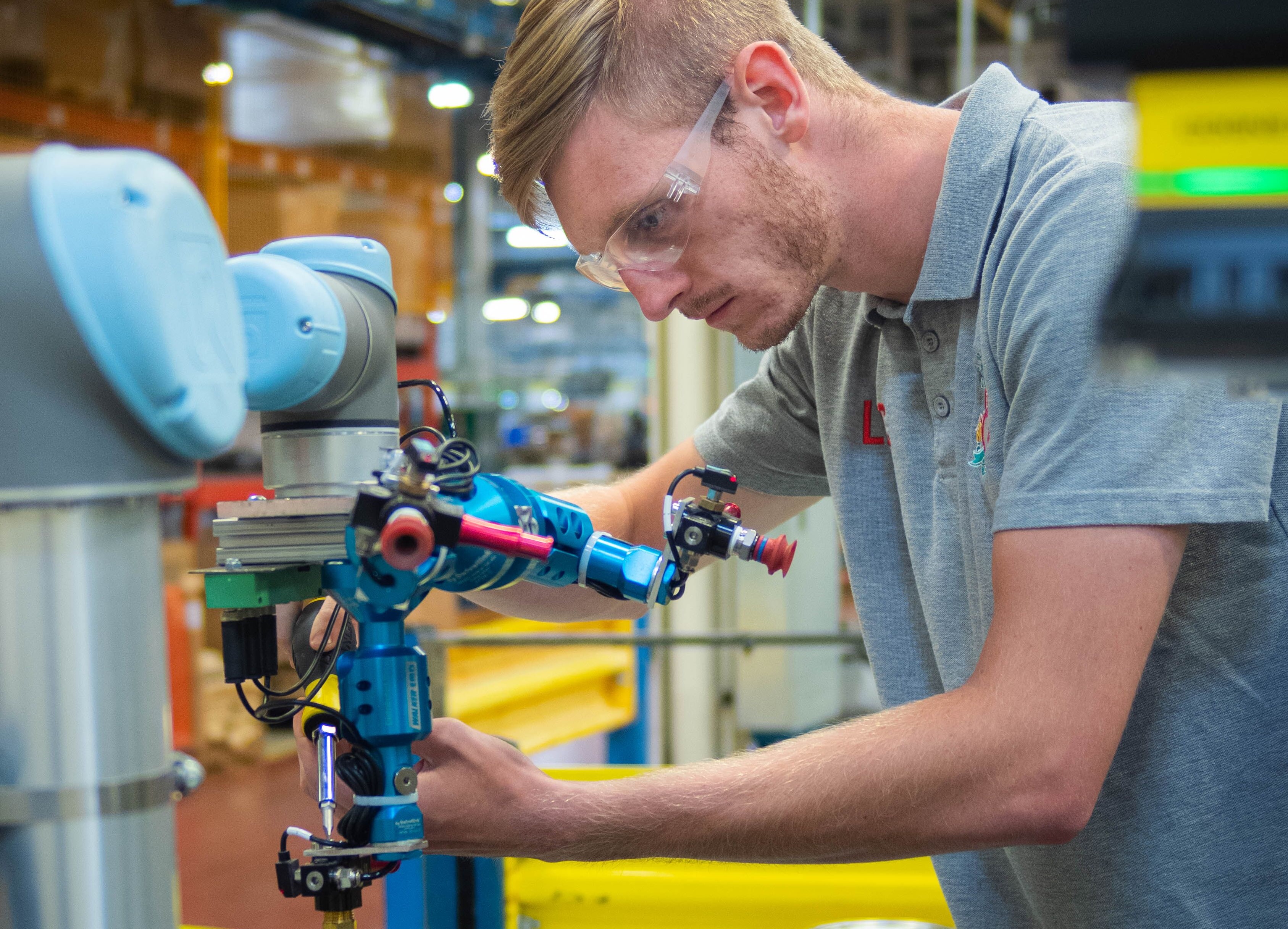 In celebration of "National Manufacturing Month," six Allegion manufacturing facilities connected more than 450 students to nearly 200 employees who showed them the thriving world of modern manufacturing. The events, done in partnership with the National Association of Manufacturers, totaled over 3,000 in 2019.

Check out brief highlights from each 2019 MFG Day event, including local media coverage, below.
Oct. 3: Colorado Springs, Colo.
Employees welcomed more than 170 students and faculty in the greater Colorado Springs area. "If you think about it, any object that didn't occur in nature was manufactured by someone," Allegion Operations Manager Dan Geoffroy told students from Manufacturing Industry Learning Lab National Training Center, Peyton High School and James Irwin Charter Schools. "You can contribute to that. There are many valuable jobs in manufacturing industry today – and these roles involve not just making things, but problem-solving and innovating."
Oct. 4: Indianapolis, Ind.
Indianapolis kicked off its fifth event with three Allegion executives in attendance to welcome students and government officials: Senior Vice President and President of the Americas Tim Eckersley, Senior Vice President and Chief Customer and Digital Officer Tracy Kemp, as well as Senior Vice President and Chief Human Resources Office Shelley Meador. In addition to a panel of Allegion employees, the 120 students who attended the event also heard from Indianapolis Mayor Joe Hogsett: "Days like today at Allegion help open the eyes of our youth to the renaissance that this industry is experiencing and the possibility of a robust and challenging career in manufacturing."
·         Local students tour Allegion plant on National Manufacturing Day (WRTV-6 Indianapolis, Oct. 4)
·         The Manufacturing Truth: Vibrant Industry, Rewarding Careers (Indiana "Talent Talk," Oct. 23)
Click on the infographic to see the full-size version.

Oct. 4: Cincinnati, Ohio
Allegion Senior Vice President of Global operations and Integrated Supply Chain Chris Muhlenkamp joined state and federal government representatives at Steelcraft's second annual Manufacturing Day event, which was also held on Friday, Oct. 4. Muhlenkamp reminded the 90 students in attendance, "A career in manufacturing provides an opportunity for an experience of excitement, enthusiasm and learning, while creating friendships and relationships that will last a lifetime. Individuals seeking to be empowered, to bring value each and every day, and to make a difference can find that challenge with a career in manufacturing."
Oct. 4: Snoqualmie, Wash.
Snoqualmie welcomed nearly 50 students as well as city and federal representatives in two waves of activities for its first Manufacturing Day. TGP General Manager Devin Bowman spoke to one of the reasons behind the inaugural event, saying, "The future of manufacturing has never been brighter – and, oftentimes, people don't realize how the industry has evolved and the innovation that's taking place. That's why we're bringing students and community leaders through our doors, to see the variety of jobs you can have in manufacturing, to see the modern culture in manufacturing and to see the problem solving and creating thinking needed in manufacturing."
·         MSHS Students Explore Career Paths on Manufacturing Day (Snoqualmie Valley Schools, Oct. 7)
·         Local Students Take Manufacturing Day Tour (Snoqualmie Valley Record, Oct. 13)
Oct. 23: Olathe, Kan.
Approximately 15 students from Olathe West and Olathe Norwest high schools had the opportunity to witness how Allegion's Kansas facility produces mechanical lock cylinders and keys, first-hand, as they toured the facility. They were also able to discuss career opportunities with employees working both on the floor and in distribution, customer care and sales. Employees shared about Allegion's skilled trade apprenticeship programs and tuition reimbursement opportunities.
·         Olathe company hosts Manufacturing Day for students (KSHB-TV Kansas City, Oct. 23)
Oct. 29: Princeton, Ill.
For nearly 70 years, Allegion's Illinois facility has produced LCN® door closers. More than 30 students and teachers who attended 2019 Manufacturing Day there were given site tours to see how those products are made and how employees are empowered to innovate in manufacturing processes. The students also engaged in hands-on assembly workshops that exposed them to advanced skills in lean manufacturing as well as on-the-job teamwork. On the same day, Allegion hosted government officials to celebrate its first-ever CNC Machine Apprenticeship Program, which has 17 inaugural class members. They are all current employees who have committed to school and on-the-job training, supported by Allegion, to earn their journey workers' cards.
·         Allegion Hosts Students for Manufacturing Day (Bureau County Republican, Nov. 15)