Material Declaration
Governments around the world are focusing on restricting and eliminating the presence of hazardous materials in products and packaging from the environment to improve the sustainability of our planet. Therefore, there has been an increase in health and environmental regulatory requirements passed and proposed by different jurisdictions around the world. These regulations mandate compliance by manufacturers, suppliers, retailers, and distributors across the globe and include the following: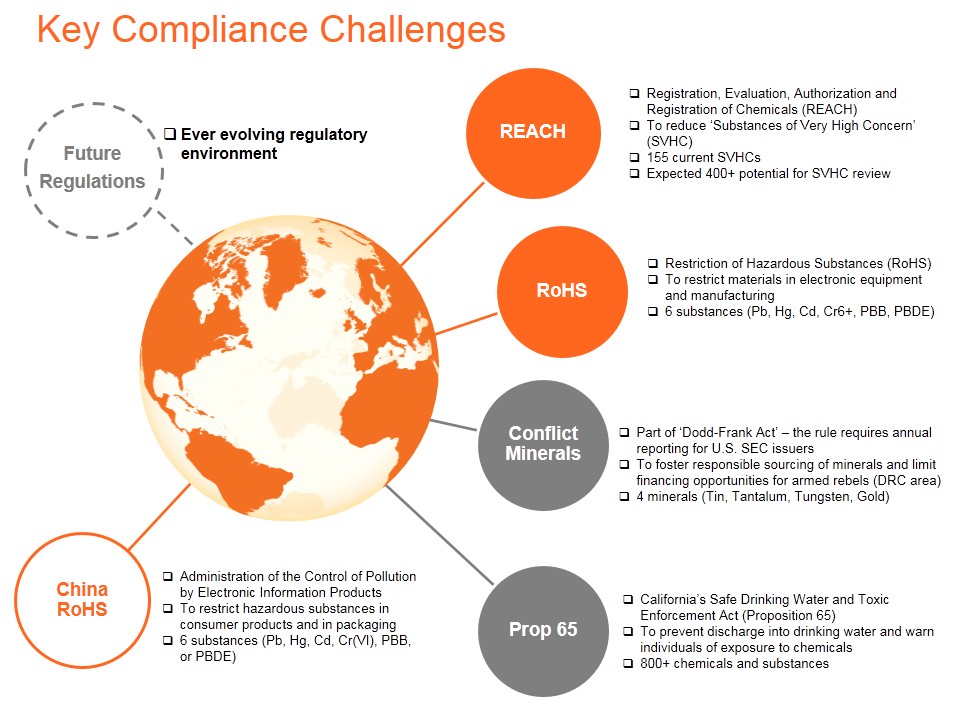 As a leading manufacturer of security technologies products and a responsible corporate citizen, Allegion is committed to environmental sustainability and promoting a cleaner ecosystem. Our goal is to design products with awareness of environmental impact, collaborate with our supply chain to source responsibly, and expect for all of Allegion's suppliers to meet or exceed these same regulations and standards.  Furthermore, Allegion is devoted to the manufacturing and distribution of products that comply with global governmental regulations (United States, Asia and Europe) with regards to restricted hazardous chemical use, reporting of substance of very high concerns (SVHCs) and product safety labeling and notification.
Allegion is aware of and committed to meeting the obligations imposed by these regulations and directives by:
Actively developing programs with effective processes and a centralized data management system to gather information about our products
Working with product development to incorporate regulatory restrictions in current and future designs
Collaborating with our suppliers to secure updated product content compliance information
Monitoring new regulatory requirements and updates
It is Allegion's intent to offer products that are compliant with these regulatory mandates. We will continue to work with our customers, vendors and suppliers to ensure that our products remain compliant with the latest changes and updates to the regulatory requirements and directives. Below are more details about the materials compliance regulations that Allegion faces:
REACH
The Registration, Evaluation, Aurthorization and Restriction of Chemicals (REACH) regulation in European Union  imposes registration requirements of manufacturers and importers of chemical substances classified as Substances of Very High Concern (SVHC).  Article 57 of the regulation outlines the properties of the SVHCs chemicals, and includes:
CMR – Carcinogens, Mutagens, or toxic to Reproduction (e.g., Lead chromate, Cadmium, etc.)
PBT – Persistent, Bioaccumulative, and Toxic to the environment (e.g., Alkanes, Anthracene, etc.)
vPvB – very Persistent and very Bioaccumulative in the environment (e.g., Chlorinated Paraffins, DecaBDE)
Equivalent Level of Concern (e.g., Cadmium oxide, 4-Nonylphenol,etc.)
The candidate list now includes 155 Substances of Very High Concern (SVHC's) and can be found at http://echa.europa.eu/candidate-list-table. Below is a table with the most frequent uses of the materials (this is a non-exhaustive list):
Impacted Products | Most Frequent Uses

Cables
Plastics
PVC
High Impact Polystyrene
Resins

Adhesives
Coatings/Paints
Capacitors, Semiconductors
PCB
Batteries
Per review of Article 3(3) of the REACH regulation, Allegion has determined our products to fall under the definition of an "article" or an object which during production is given a special shape, surface or design which determines its function to a greater degree than does its chemical composition.  Article 3(3) requires Suppliers of the articles to:
Inform the receipient of the article if an SVHC is present in those articles above a concentration of 0.1% or 1000ppm weight-by-weight, the name of the SVHC, and provide instructions of safe use, if applicable.
Respond to a consumer request within 45 days of the receipt of the request
RoHS II
The European Union RoHS Directive 2011/65/EU ("RoHS 2"), restricts the use of several hazardous substances in electrical and electronic equipment.  There are currently four (4) additional substances under review for inclusion into the RoHS 2 restricted list. 
Substances

Uses

Restricted:

A.   Lead

B.   Mercury

C.   Cadmium

D.   Hexavalent Chromium

E.   PBB

F.   PBDE

Proposed:

G.   HBCDD

H.   DEHP

I.    BBP

J.    DBP

A.     Batteries, solder, coating (brass/bronze)

B.     Neon sign lights

C.     Batteries, alloys, PVC, LED, electro-plating

D.     Dies, paint, anti-corrosion and conversion coatings

E./F.  Flame retardant (plastic, foam)

F./J.   Plastic (cable, paint)

PBB = Poly-brominated biphenyls | PBDE = Polybrominated diphenyl ethers | HBCDD = Hexabromocyclododecane

DEHP = Bis(2-ethylhexyl) phthalate | BBP = Benzyl butyl phthalate | DBP = Di-n-butyl phthalate
Under RoHS 2, there have also been significant changes as to the categories that were considered out of scope of the original RoHS directive. The following are the compliance timelines established for the categories that have recently or will come into scope under the Recast:
Medical Devices – 22 July 2014
In vitro diagnostic medical devices – 22 July 2016
Consumer control and monitoring instruments – 22 July 2014
Industrial control and monitoring instruments – 22 July 2017
All other electrical equipment not covered by any of the other categories – 22 July 2019
Allegion products currently fall under multiple RoHS categories which include:
Category 3 – IT and telecommunications equipment
Category 4 – Consumer equipment
Category 9 – Monitoring and Control Instruments
Allegion will continue working with our suppliers to review our products for any changes to our compliance status with respect to the RoHS 2 updates.
Product Categories Defined under RoHS II:
Large household appliances
Small household appliances
IT and Telecommunications equipment
Consumer equipment
Lighting equipment
Electrical and electronic tools (with the exception of large-scale stationary industrial tools)
Toys, leisure and sports equipment
Medical devices
Monitoring and control instruments
Automatic dispensers
All other electrical equipment not covered by any of these
Proposition 65
This directive, The California Safe Drinking Water and Toxic Enforcement Act (Prop. 65), was enacted in Nov. 1986, and requires the state of California to publish and update a list of chemicals known to cause cancer or reproductive toxicity and to prescribe a minimum threshold for those chemicals of concern. This list contains over 800 chemicals and was last updated June 4, 2014 and can be found at http://oehha.ca.gov/prop65/getNSRLs.html
Materials

Most Frequent in Litigation

900+ Chemicals & Substances
8 on Frequent Litigation List

Lead
5 phthalates
Cadmium
Hexavalent Chromium
Nickel
The Office of Environmental Health Hazard Assessment (OEHHA) has established safe harbor levels (levels of exposure that trigger the warning requirement) for some, but not all, listed chemicals.
For chemicals with no safe harbor levels, a company must notify the public with a "clear and reasonable" warning before knowingly and intentionally exposing anyone to a listed chemical unless the exposure poses "no significant risk of cancer" (as defined by the Act) or is significantly below levels observed to cause defects or other reproductive harm.  
The warning message must include the following language:
For consumer products that contain a chemical known to the state to cause cancer:
WARNING: This product contains a chemical known to the State of California to cause cancer.
For consumer products that contain a chemical known to the state to cause reproductive toxicity:
WARNING: This product contains a chemical known to the State of California to cause birth defects or other reproductive harm.